MULTIMEDIA EVENTS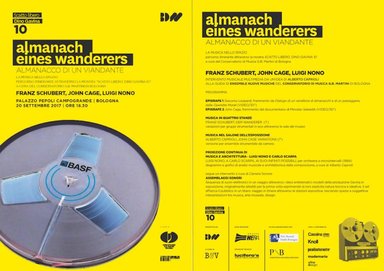 BOLOGNA DESIGN WEEK 2017

"ALMANACH EINES WANDERERS"
MULTIMEDIA EVENT (SPACE MUSIC, FILM, VIDEO FOR AN ART & DESIGN EXPOSITION)
ENSEMBLE NUOVE MUSICHE DEL CONSERVATORIO "G.B. MARTINI" DI BOLOGNA
ALBERTO CAPRIOLI, CURATOR AND CONDUCTOR
ALBERTO CAPRIOLI WAS THE CURATOR OF THE MULTIMEDIA PROJECT "ALMANAC OF A WANDERER", A PERFORMANCE WHICH INVOLVED ART, DESIGN, ARCHITECTURE, MUSIC, FILM, AND ELECTRONICS ON THE OCCASION OF THE DESIGN EXHIBITION "SCATTO LIBERO. DINO GAVINA 10" DURING THE BOLOGNA DESIGN WEEK 2017. THE WHOLE PROJECT WAS PERFORMED TWICE, DURING THE PRESS LAUNCH AND THE OFFICIAL OPENING OF THE EXPOSITION. PARTS OF IT (THE VIDEO AND THE DOCUMENTARY FILM) WERE PLAYED DURING THE ENTIRE DURATION OF THE EXPOSITION. THE ART VENUE WHERE THE PERFORMANCE TOOK PLACE WAS THE ART GALLERY OF THE PEPOLI CAMPOGRANDE PALACE, A LUXURIOUS AND PRESTIGIOUS BRANCH OF THE BOLOGNA NATIONAL ART GALLERY (PINACOTECA NAZIONALE DI BOLOGNA, AT THAT TIME DIRECTED BY ELENA ROSSONI), WHICH WAS AMONG THE ELECTED LOCATIONS OF THE BOLOGNA DESIGN WEEK IN 2017. DURING THE EXHIBITION OF DESIGN PROTOTYPES OF THE DINO GAVINA COLLECTION (CURATED BY DANIELE VINCENZI AND ELENA BRIGI), ALBERTO CAPRIOLI CONDUCTED FRANZ SCHUBERT, DER WANDERER, VERSION BY ALBERTO CAPRIOLI FOR SIXTEEN INSTRUMENTS AND PERCUSSION IN FOUR DIFFERENT FORMATIONS PLACED IN FOUR ADJOINING HALLS (2017). DURING THE PERFORMANCE, VISITORS COULD WALK THROUGH THE MUSEUM HALLS HEARING THE SOUND TRANSFORMATIONS OF SCHUBERT'S COMPOSITION IN THE SPACE, LOOKING AT THE EXHIBITION AND WATCHING, IN THE MAIN HALL, A VIDEO PROJECTION OF ALBERTO CAPRIOLI, A MUSICAL AND ARCHITECTURAL ANALYSIS OF LUIGI NONO'S A CARLO SCARPA (1997), WHOSE MATERIALS WERE TAKEN FROM ALBERTO CAPRIOLI, GLI INFINITI POSSIBILI. ANMERKUNGEN FÜR EINE ANALYSE VON LUIGI NONOS A CARLO SCARPA UND SEINE BEZIEHUNGEN ZU MEINEN JOHN CAGE VARIATIONS, «TON», "MIKROTONALITÄT" (WIEN, INTERNATIONALE GESELLSCHAFT FÜR NEUE MUSIK), IV 96 – I 97, PP. 32-44, PUBLISHED IN 1997 IN THE REVIEW OF THE AUSTRIAN BRANCH OF THE INTERNATIONAL SOCIETY FOR CONTEMPORARY MUSIC IN VIENNA AFTER A RESEARCH IN THE LUIGI NONO AND THE CARLO SCARPA ARCHIVES IN VENICE.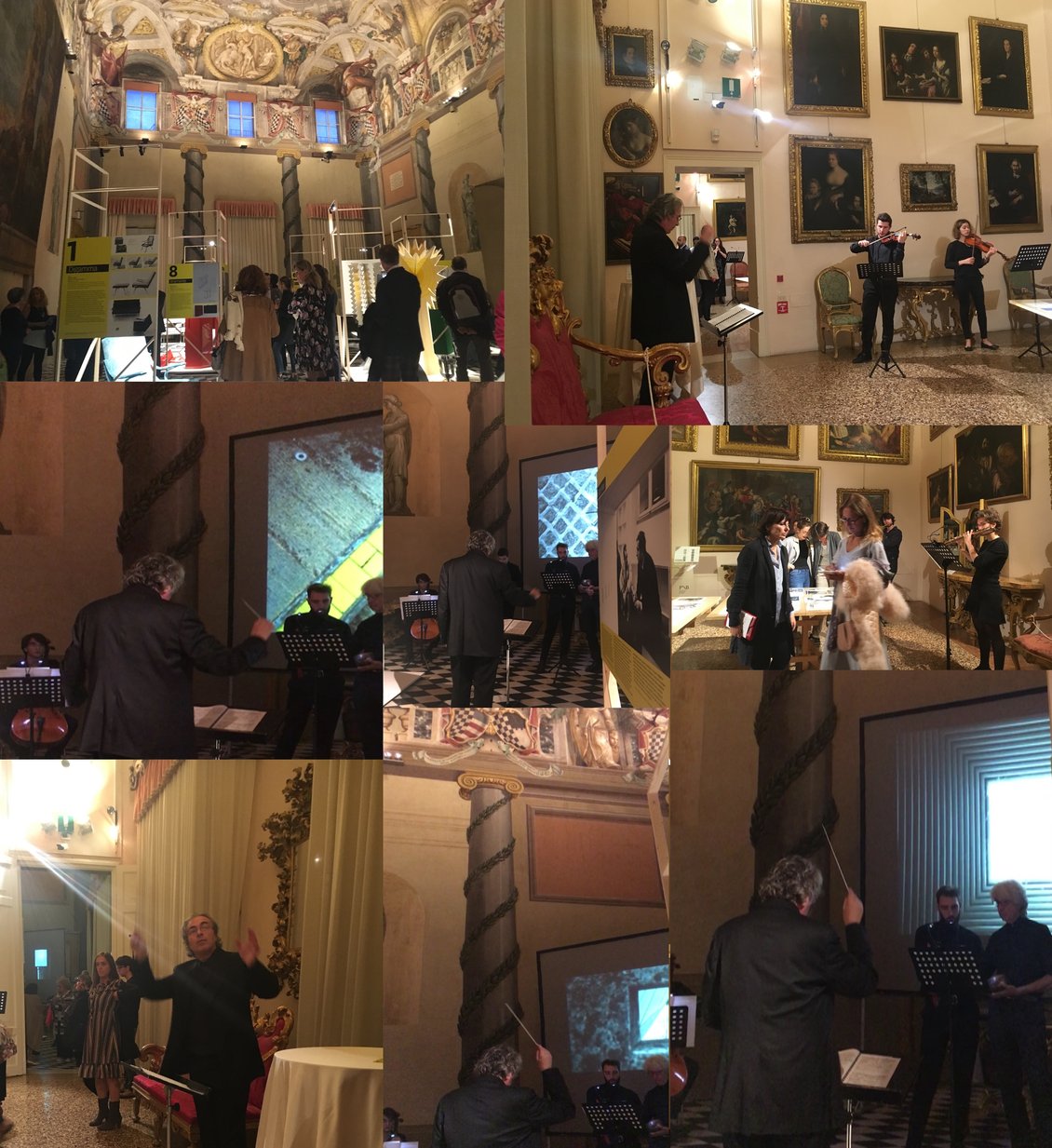 ALBERTO CAPRIOLI, ALMANACH EINES WANDERERS, BOLOGNA DESIGN WEEK 2017
THEREAFTER, IN THE MAIN HALL WAS PROJECTED ALBERTO CAPRIOLI, MUSIC AND ARCHITECTURE: LUIGI NONO AND CARLO SCARPA (ITALY, 2008, 2017), A DOCUMENTARY SHORT FILM ABOUT CARLO SCARPA'S ARCHITECTURES, MADE ON MATERIALS FROM THE ARCHIVE OF THE CARLO SCARPA FOUNDATION IN VENICE AND THE LABORATORIO DI PROGETTAZIONE ARCHITETTONICA, LAP0, FACULTY OF ARCHITECTURE OF THE FERRARA UNIVERSITY, WITH A SOUNDTRACK BASED ON A HISTORICAL RECORDING OF LUIGI NONO, A CARLO SCARPA, AI SUOI INFINITI POSSIBILI, PER ORCHESTRA A MICROINTERVALLI (1984). IN THE SAME MAIN HALL, ALBERTO CAPRIOLI FINALLY CONDUCTED HIS JOHN CAGE VARIATIONS, NEW SPATIALIZED VERSION FOR A MICRO-INTERVALS QUINTET AND FIVE ECHO INSTRUMENTS (1992, 2017), A WORK-IN-PROGRESS COMPOSITION WHOSE FIRST VERSION WAS DEDICATED TO JOHN CAGE'S EIGHTIETH BIRTHDAY, FIRST PERFORMED BY THE AUSTRIAN ENSEMBLE FOR NEW MUSIC (ÖSTERREICHISCHES ENSEMBLE FÜR NEUE MUSIK, SALZBURG) CONDUCTED BY HERBERT GRASSL, LATER RECORDED ON THE CD "JANUARY 1992 (LA CITTÀ INCOSCIENTE)", PUBLISHED WITHIN THE VOLUME NUOVA OFFICINA BOLOGNESE BY THE GALLERIA D'ARTE MODERNA DI BOLOGNA.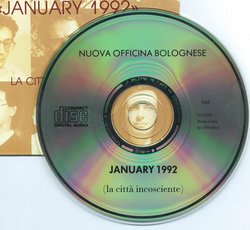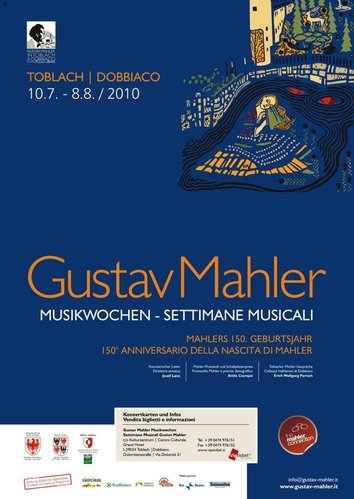 GUSTAV MAHLER MUSIKWOCHEN 2010

MULTIMEDIA CONCERT (MUSIC, FILM, VIDEO)
EX NOVO ENSEMBLE
ALBERTO CAPRIOLI, CONDUCTOR
CHARLES IVES, THE UNANSWERED QUESTION (1908, 1930-35)
SPAZIALIZED VERSION FOR THE GUSTAV-MAHLER SAAL
FOR TWO FLUTES, OBOE, CLARINET, TRUMPET AND STRING QUARTET
MAN RAY, LES MYSTÈRES DU CHÂTEAU DU DÉ (FRANCE, 1929)
NEW VERSION BY ALBERTO CAPRIOLI AND ALDO ORVIETO
WITH SOUNDTRACK BY ERIK SATIE AND GEORGES AURIC
FOR PIANO AND TEN INSTRUMENTS (2010)
ALAIN RESNAIS, L'AMOUR À MORT (FRANCE, 1984)
ENTIRE FILM PLAYED IN THE EVENING BEFORE THE CONCERT
HANS WERNER HENZE, SONATE FÜR SECHS SPIELER (1984)
CONCERT PERFORMANCE OF THE WHOLE COMPOSITION, WHOSE FRAGMENTS WERE USED
AS SOUNDTRACK BY ALAIN RESNAIS FOR HIS FILM L'AMOUR À MORT
BRUNO MADERNA, DIALODIA, FOR TWO FLUTES (1971)
DANIELE RUGGIERI, MICHELA CASER, FLUTES
STEFANO GERVASONI, PRÉS, FOR PIANO (FIRST PERFORMANCE) (2010)
ALDO ORVIETO, PIANO
ALBERTO CAPRIOLI, PIÈCE LIBRE POUR GILLE DELEUZE,
FOR VIOLA AND FIVE MICRO-INTERVAL INSTRUMENTS (2009)
MARIO PALADIN, VIOLA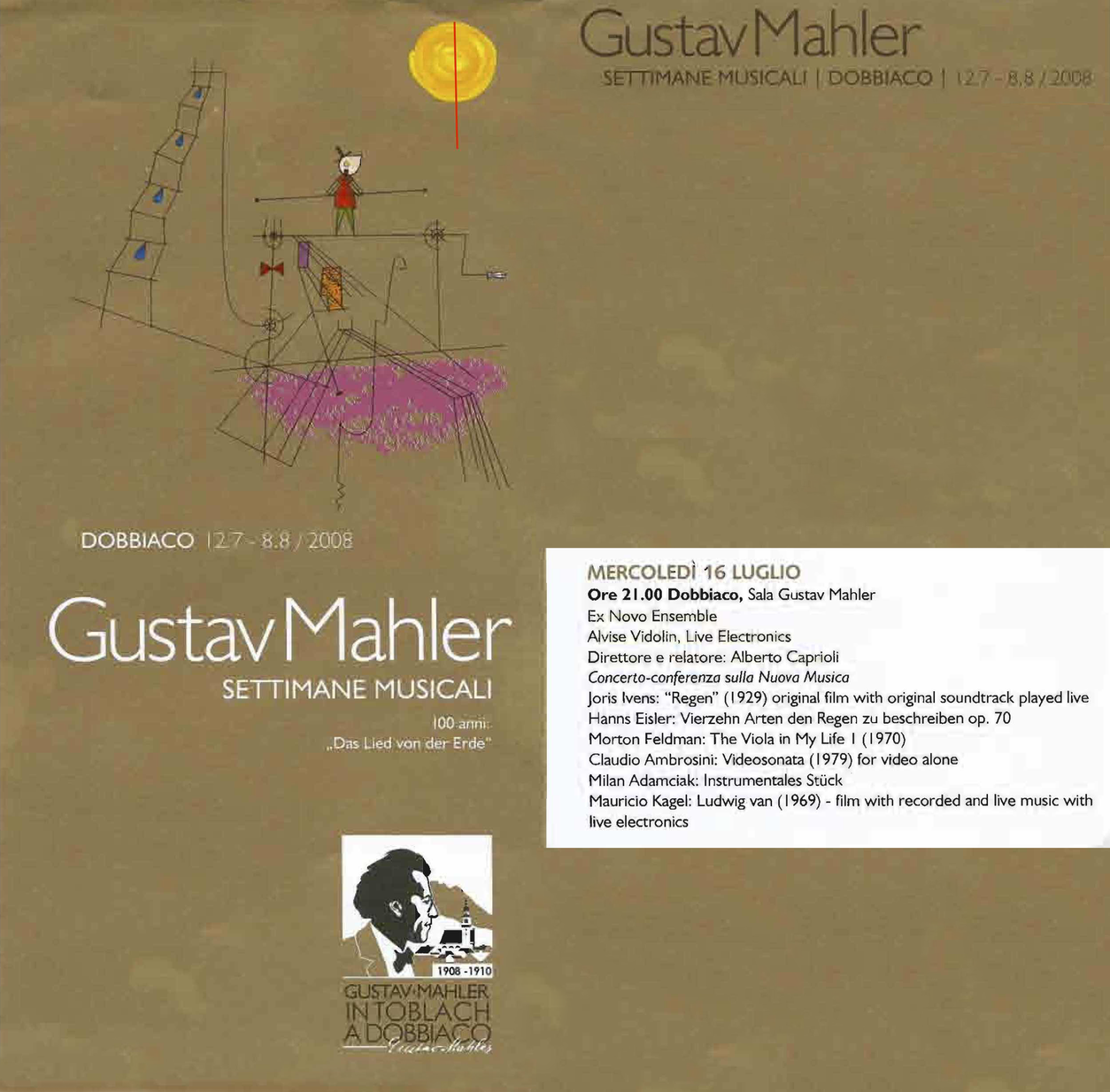 GUSTAV MAHLER MUSIKWOCHEN 2008

MULTIMEDIA CONCERT (MUSIC, FILM, VIDEO)
EX NOVO ENSEMBLE, ALVISE VIDOLIN, LIVE ELECTRONICS
ALBERTO CAPRIOLI, CONDUCTOR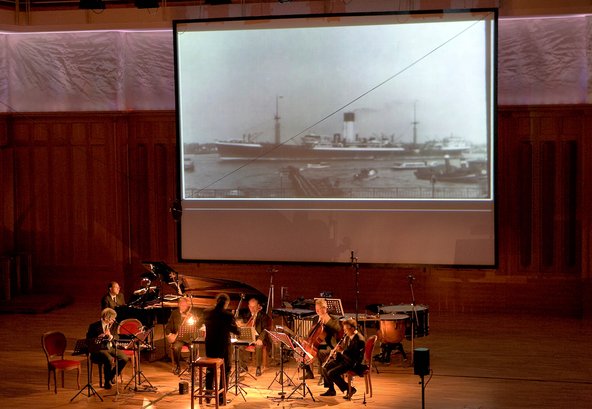 MILAN ADAMČIAK, GENUG, FOR SEVEN PLAYERS AND NARRATOR (2008)
DEDICATED TO THE EX NOVO ENSEMBLE – FIRST PERFORMANCE
CLAUDIO AMBROSINI, VIDEOSONATA (1979)
MORTON FELDMAN, THE VIOLA IN MY LIFE (1970)
JORIS IVENS, REGEN (1929)
FILM WITH LIVE-PERFORMED SOUNDTRACK
HANNS EISLER, VIERZEHN ARTEN DEN REGEN ZU BESCHREIBEN
VARIATIONEN OP.70 (1941)
MAURICIO KAGEL, LUDWIG VAN
FILM IN THE NEW VERSION BY ALBERTO CAPRIOLI (2008)
FOR SIX INSTRUMENTS AND LIVE ELECTRONICS (ALVISE VIDOLIN)
AUTHORIZED BY THE COMPOSER, THIS SECOND PERFORMACE IN VENICE WAS RECORDED BY SOUND ENGINEER MATTEO COSTA AT THE SALA PICCOLO TEATRO OF THE GIORGIO CINI FOUNDATION, ISOLA DI SAN GIORGIO MAGGIORE, ON NOVEMBER 14, 2009.
THE FIRST PERFORMANCE, PLAYED BY THE SAME INTERPRETERS, TOOK PLACE IN DOBBIACO (GUSTAV MAHLER FESTIVAL, JULY 16, 2008). MAURICIO KAGEL GAVE HIS APPROVAL FOR THIS SHORTER LIVE VERSION OF HIS FILM LUDWIG VAN IN A LETTER TO ALVISE VIDOLIN (COLOGNE, 29.02.2008, A. VIDOLIN'S ARCHIVES). THIS NEW VERSION, BORN FROM AN IDEA OF ALDO ORVIETO, INCLUDES TEN LIVE MUSICAL TROPES (IMPROVVISO I-X) COMPOSED BY ALBERTO CAPRIOLI AS REQUESTED BY MAURICIO KAGEL'S ORIGINAL SCORE LUDWIG VAN (UNIVERSAL EDITION), PARTLY SUBSTITUTING THE ORIGINAL 1970 SOUNDTRACK, PARTLY INTERACTING WITH IT BY MEANS OF THE LIVE ELECTRONICS. THESE ARE THE NEW PARTS OF THE SOUNDTRACK WHICH WERE PLAYED LIVE BY THE EX NOVO ENSEMBLE, WHEREAS THE LIVE ELCTRONICS OPERATE THROUGH ALMOST THE WHOLE PIECE:
01:54​ – 02:46​ IMPROVVISO I (ACOUSTIC)
06:22​ – 07:57​ IMPROVVISO II (MINIMAL, 'TRASPARENT' AMPLIFICATION, LIVE ELECTRONICS 1)
08:06​ – 08:53​ IMPROVVISO III (REVERBERATING SPACES, LIVE ELECTRONICS 2)
11:27​ – 14:01​ IMPROVVISO IV (MINIMAL, 'TRASPARENT' AMPLIFICATION 2, SPATIALIZED, LIVE ELECTRONICS 3)
15:56​ – 21:36​ IMPROVVISO V-VII FROM MAURICIO KAGEL'S SCORE (SPATIALIZED, LIVE ELECTRONICS 4-6)
22:58​ – 23:24​ IMPROVVISO VIII (LIVE ELECTRONICS 7)
24:20​ – 25:04​ IMPROVVISO IX (LIVE ELECTRONICS 8)
40:54​ – 43:28​ IMPROVVISO X (LIVE ELECTRONICS 9)
FOLLOWING THE IDEA OF ESTRANGEMENT WHICH WAS CLEARLY FORMULATED IN MAURICIO KAGEL'S SCORE LUDWIG VAN, ALL BEETHOVEN QUOTATIONS WERE RE-READ AND RE-ORCHESTRATED IN WHAT MAY BE SEEN AS UNUSUAL TIMBRES.
PARTICULAR THANKS ARE DUE TO THE FOUNDER OF THE EX NOVO ENSEMBLE, THE COMPOSER AND CONDUCTOR CLAUDIO AMBROSINI, TO MARIO MESSINIS, ALDO ORVIETO AND ALVISE VIDOLIN, AS WELL AS TO THE UNIVERSAL EDITION, THE WESTDEUTSCHES FERNSEHEN, WINTER & WINTER AND, LAST BUT NOT LEAST, DR. JOSEF LANZ, THE ARTSITIC DIRECTOR OF THE GUSTAV MAHLER MUSIKWOCHEN IN TOBLACH, WHERE THE FIRST PERFORMANCE OF THIS LIVE VERSION TOOK PLACE. DEDICATED TO THE MEMORY OF MAURICIO KAGEL, URSULA BURGHARDT, MARIO MESSINIS AND GIOVANNI MORELLI, UNDER WHOSE DIRECTION THE MUSIC INTITUTE OF THE GIORGIO CINI FOUNDATION IN VENICE WAS FOR A LONG TIME A UNIQUE MELTING POT OF MUSICAL IDEAS, CONTINUOUSLY CROSSING THE NEWEST FRONTIERS OF KNOWLEDGE. 
BOLOGNA 2018
BIBLIOTECA COMUNALE DELL'ARCHIGINNASIO, SALA DELLO STABAT MATER
ALBERTO CAPRIOLI, "LACRIME SOSPESE. LEOPARDI INTORNO A LA DONNA DEL LAGO"
MULTIMEDIA CONFERENCE INTRODUCED BY JADRANKA BENTINI IN A SERIES DIRECTED BY PIERO MIOLI
"L'INQUILINO DI STRADA MAGGIORE E PIAZZA ROSSINI. ROSSINI A BOLOGNA NEL 150° DALLA SCOMPARSA"
THE AIM OF THE CONFERENCE WAS TO INVOLVE THE HIGH-PROFILE AUDIENCE THROUGH MUSIC AND WIDESCREEN FILM PROJECTIONS, TRANSMITTING THE RESULTS OF A COMPARATIVE STUDY ON GIOACHINO ROSSINI'S OPERA LA DONNA DEL LAGO AND GIACOMO LEOPARDI'S WRITINGS ON THE COMPOSER AND THE NEW MUSIC OF HIS AGE, BOTH REVIEWED IN THE CONTEXT OF MUSICAL HERMENEUTICS.

BOLOGNA, "SOTTO LE STELLE DEL CINEMA" FILM FESTIVAL
BOLOGNA, PIAZZA MAGGIORE, AUGUST 1995
FILMS WITH LIVE SOUNDTRACK PERFORMANCES
ORCHESTRA DEL TEATRO COMUNALE DI BOLOGNA
ALBERTO CAPRIOLI, CONDUCTOR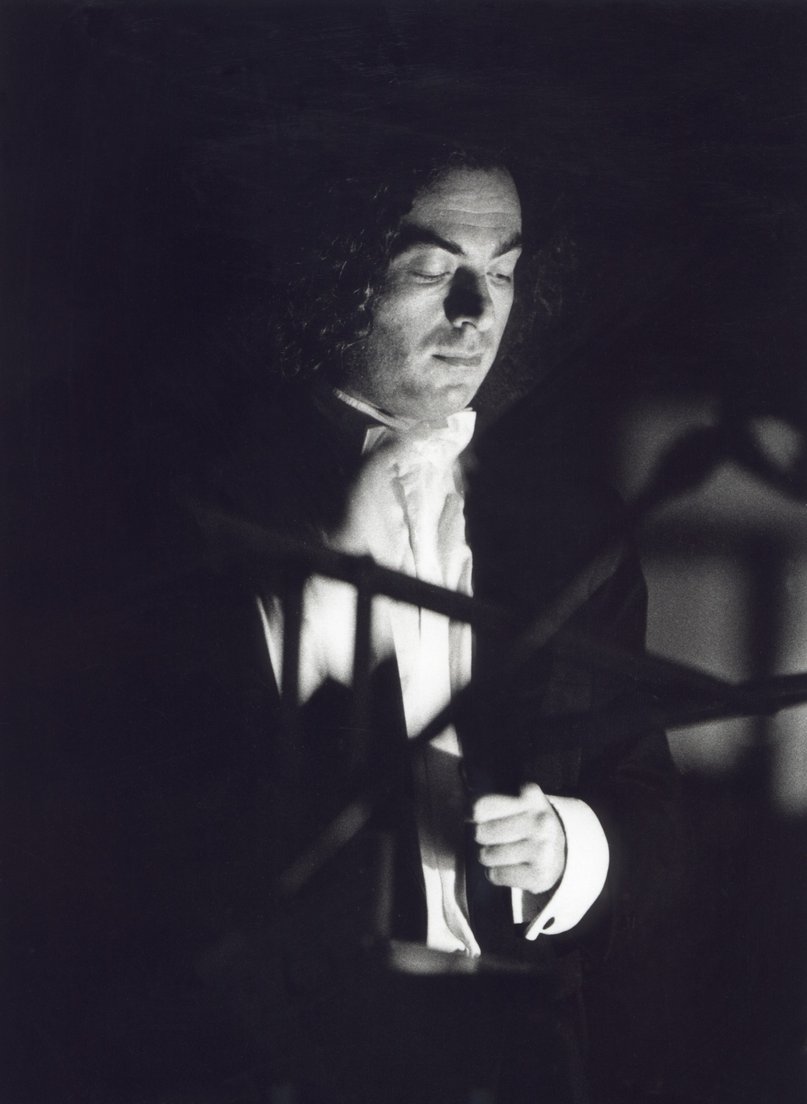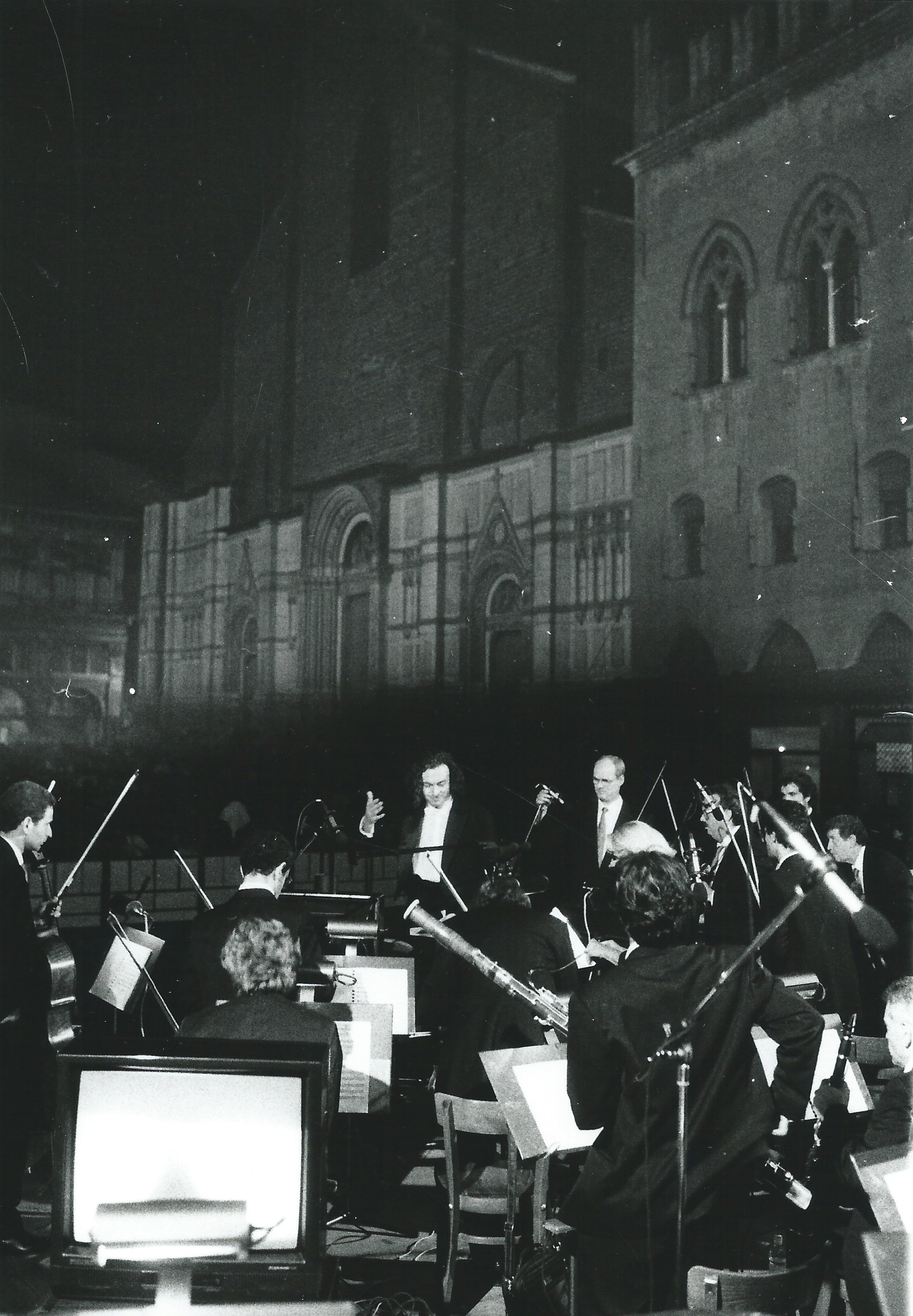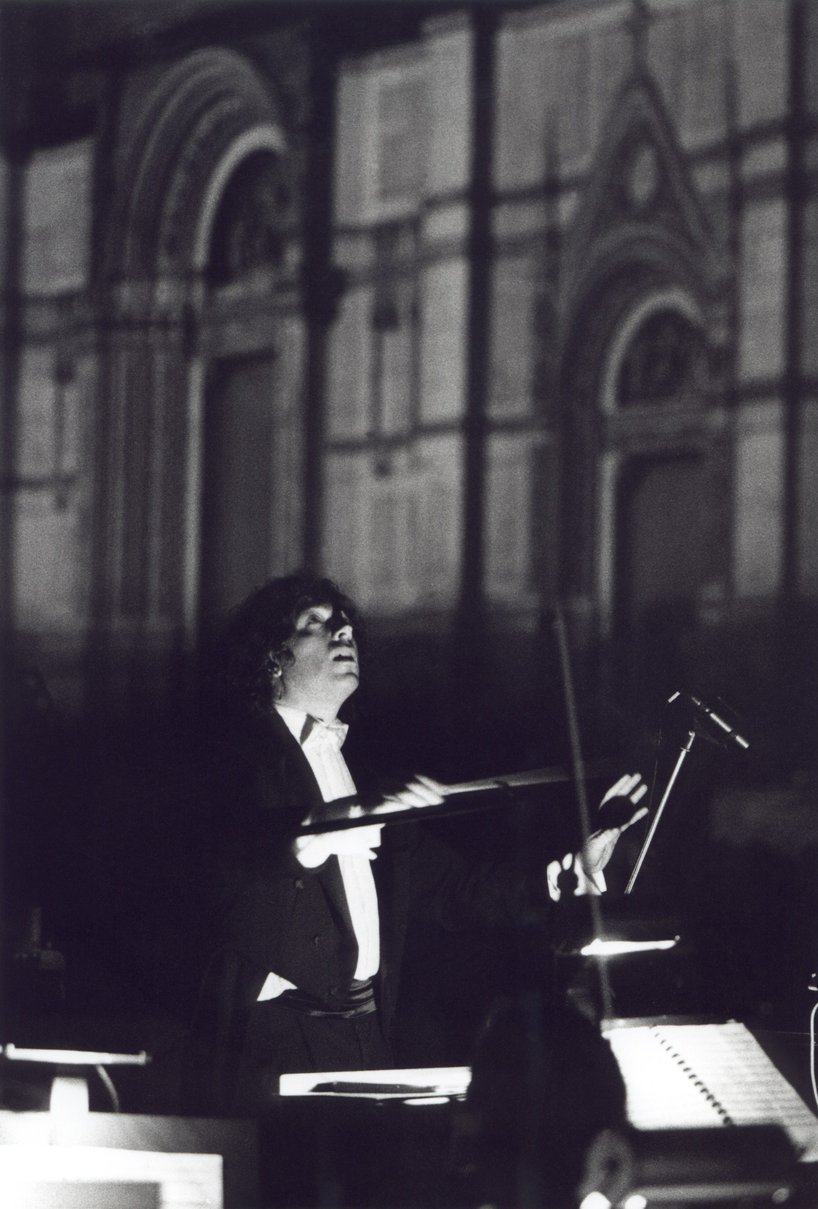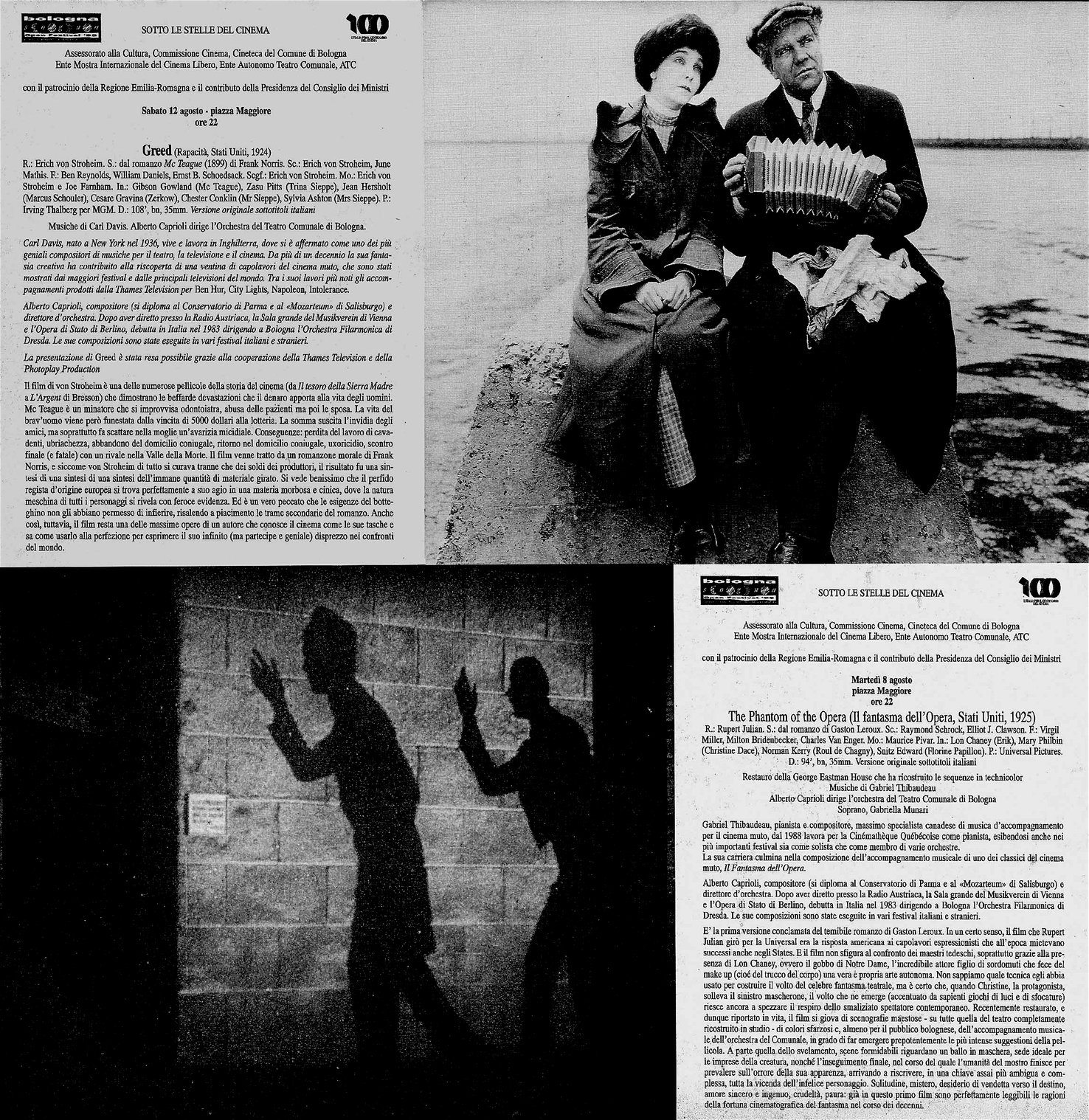 ERICH VON STROHEIM, GREED (USA, 1924)
SOUNDTRACK BY CARL DAVIS (1986)
FIRST ITALIAN PERFORMANCERUPERT JULIAN, THE PHANTOM OF THE OPERA (USA, 1925)
RESTORED VERSION BY THE GEORGE EASTMAN HOUSE
WITH THE RECONSTRUCTION OF THE ORIGINAL TECHNICOLOR SCENES
SOUNDTRACK BY GABRIEL THIBAUDEAU (1986)
GABRIELLA MUNARI, SOPRANO
BOLOGNA, "IL CINEMA RITROVATO" FILM FESTIVAL, SPECIAL EVENTS
BOLOGNA, PIAZZA MAGGIORE, JULY 1998
FILMS WITH LIVE SOUNDTRACK PERFORMANCES
ORCHESTRA SINFONICA DELL'EMILIA ROMAGNA "ARTURO TOSCANINI"
ALBERTO CAPRIOLI, CONDUCTOR
CHARLIE CHAPLIN, THE KID (USA, 1921)
ORIGINAL SOUNDTRACK BY CHARLIE CHAPLIN (1972)
CHARLIE CHAPLIN, THE IDLE CLASS (USA, 1921)
SOUNDTRACK BY JOHNNIE VON HAINES (1969)